Call 9741 9774
info@werribeemechanic.com.au
1 Riverside Ave Werribee VIC 3030
CLICK FOR MAP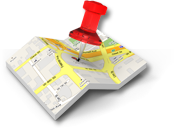 We're the mechanics you can trust with all of your mechanical repairs. We offer competitive rates that will get you back on the road again with the minimum of hassles. We are locally owned and operated, and have years of experience under the bonnet (since '87). So next time your vehicle is not running as well as it should, you know who you can call.
Our workers are all certified and trained to make sure that we offer consistent car repairs every time. And we believe in only using the highest quality products and parts for your vehicle, which is how we've made (and kept) our good name in Werribee.
We know that the longer you put off repairs and maintenance the more it will cost you in running costs, and in some cases, increased damage. We look after everything from bumper to bonnet and we care about your vehicle, your safety and your budget, so come to Riverside Ave Motors for advice and an honest FREE QUOTE...
We also specialise in Restorations of Classic & Muscle cars and are well known in the car clubs for miles around. So for restorations or for High Performance work you can count on our team, who are just as passionate as you are.
Conveniently located in Werribee, our garage is open for you to pop in with any queries, or we're just a phone call away...
Opening hours: Monday – Friday 8am – 5.30pm